Top 10 Best Cabins in Alberta, Canada
10 Best Cabins in Alberta, Canada: Are you bored of the same old hotel experience? Or want an adventurous getaway? Airbnb is a great way to travel with family or friends. Airbnb is not just a stay; it is an experience. Not only that, it provides the opportunity to stay in an entire home, rather than just a room at a hotel.
This is usually much cheaper than staying per person. You can get accommodation (much like a hotel but updated & more personalized) with plenty of space, which is great for families with children or lives in large groups. It's not the same experience as a hotel; everything's different and often better!
There's no need to stay at a hotel in the city when you can visit these fantastic vacation rentals, the best cabins in Alberta. Whether for a romantic getaway or a trip with family, they'll provide the perfect place for you and your friends to stay during a fabulous trip.
At Rated Viral; we've rounded up the coolest vacation rentals around Calgary that promise an unforgettable and relaxing trip any time of the year! If you are looking for somewhere to stay on your next vacation or just looking to book a spontaneous weekend getaway, you need to check out these unique Airbnb stays in the proximity of Calgary.
These are the topmost unique places to stay around Calgary, narrowed down by Rated Viral. Some are good for romantic getaways, and others are best for stays with family or friends.
Read More: Top 10 Best Places to Visit in Alberta
10- Cozy Log Cabin
This Norwegian-built cabin is a great place to go for a quick getaway from Calgary. You're just 20 minutes from downtown Calgary and an hour from Banff. The cabin is quiet, private, and very comfortable. Living area with a fireplace, two bedrooms with two additional floors, fully equipped kitchen with a washer/dryer, and all the comforts of home. The cabin is an amazing place to start a trip. It is just a short drive from the city, and it's very private with wide views of the nearby mountains. You will have easy access to nature & urban life.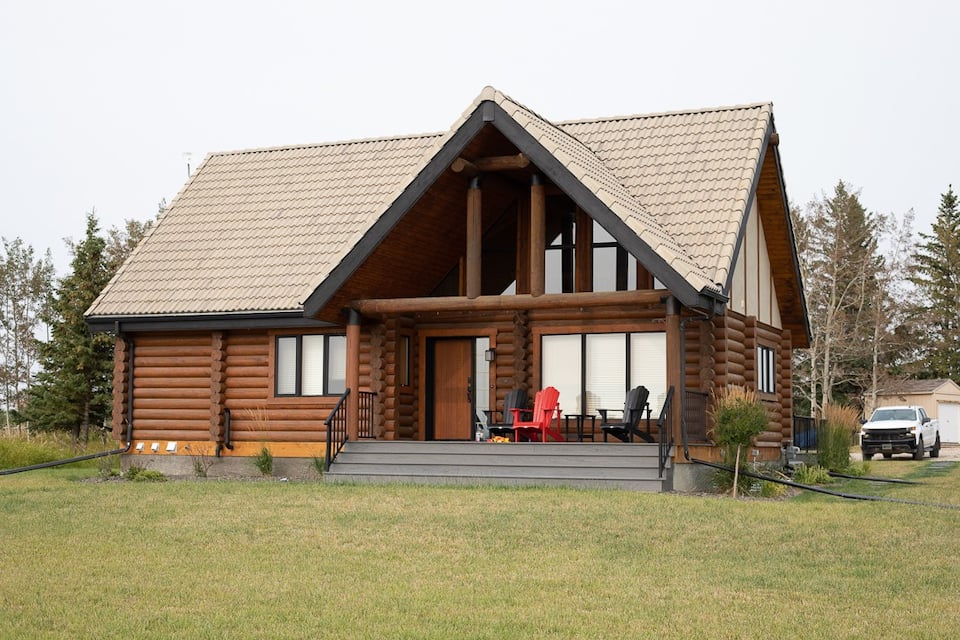 Here is what one of the customers had to say about the place
"We moved into this lovely Airbnb cabin and then stayed for um … seven months? How would we describe it? "A magic place." It's got everything — a wood stove with lots of wood, a deck for sunning on, the odd deer or moose passing by, comfy beds. Magic."
9- A Farm Stay (Willow Ridge Cottage)
 This place is perfect for a couple on their romantic getaway. Celebrate the rural way of life. This ranch has 20 acres of land to explore! And it produces wildflower honey, eggs, cherries, and Saskatoon berries. Here you will receive all they produce if it's in season, as well as milk, coffee, and other drinks. Horseback riding is also an enjoyable activity to take part in that is offered by this form. This area is worth photographing. There are great views and some wildlife here as well.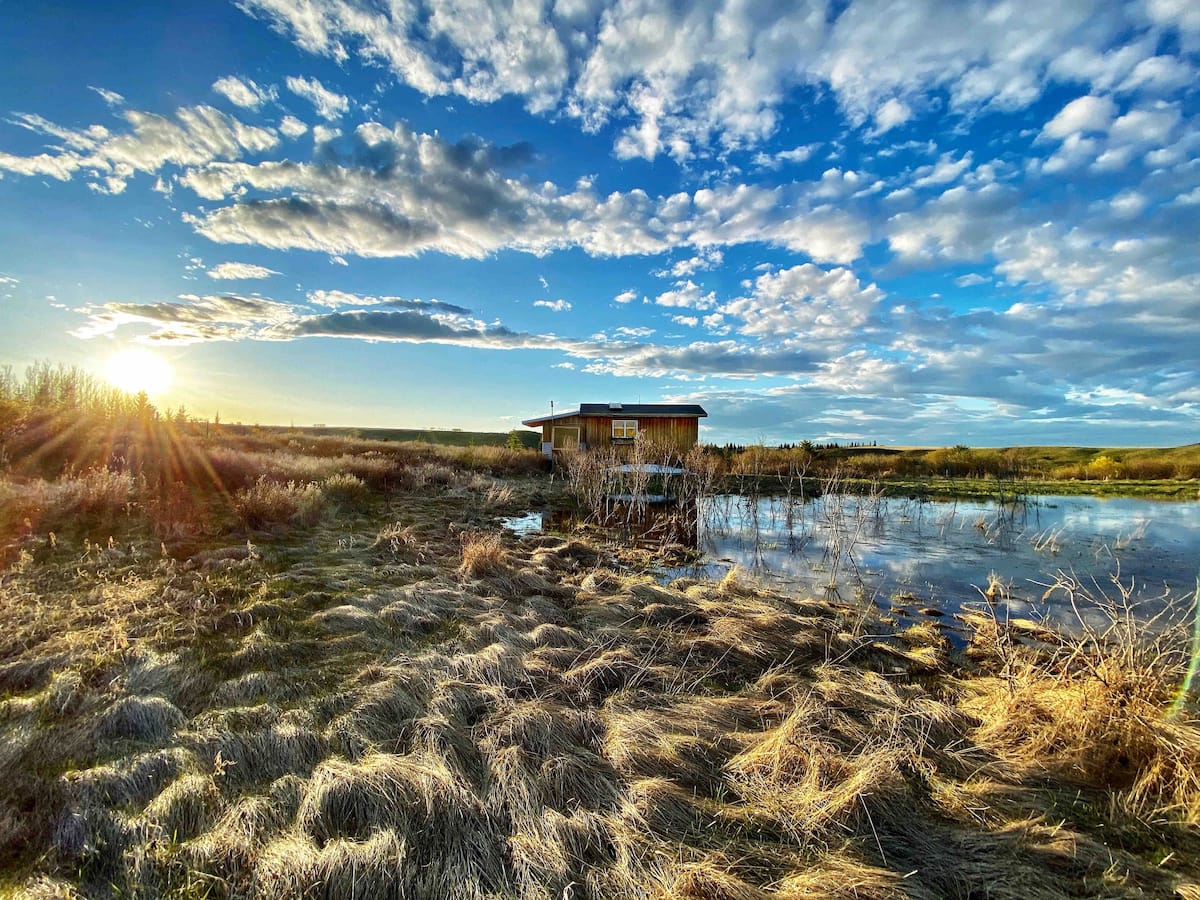 Here is one of the reviews by a happy customer
 "Being here in September was breath taking! The fall colours really added to the experience. Everything felt very homey and Grant/Jenna are wonderful! Was also a great place to get engaged we will hold onto this memory for a very long time."
8- Off-grid Straw Bale Cabin
If you are willing to drive just a little further, this unique cabin can host up to 4 guests. Find your ultimate connection to nature with this cozy rustic straw-bale off-grid cabin. Located near Calgary and Canmore on ranch lands, it offers peace and tranquillity. As if the cabin itself isn't already a hit, experience 40 acres of property around it. 
One of many great reviews:
"We came together for a Gentle Woman Retreat and we came away with an abundance of healing, hope and love– largely because of this place of simplicity what HOME. Really jeans. Thank you for this gift. We will rerun as soon as we can. Thank you Lara and Kerry."
7- Hundred Year Old Rustic Log Cabin
This is an incredible piece of history. We are lucky to be able to experience it on Airbnb! This cabin was built more than 100 years ago and was one of the original trading posts back in the fur-trading days of the Bow Valley. But don't worry, it has been upgraded to suit modern-day needs and comforts. This one is about an hour's drive from Calgary, though, but it is worth it for an experience like this.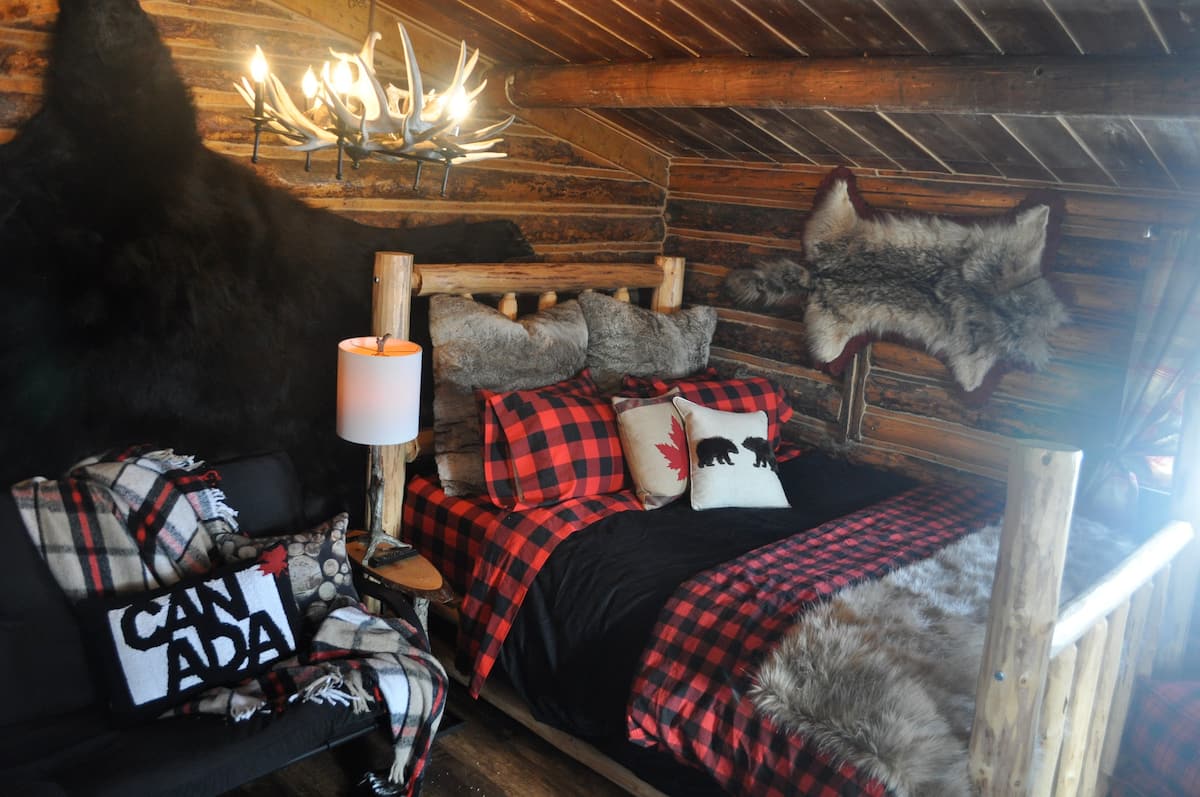 This customer review says it all:
"This is the most charming cabin I've ever seen. They've done such a great job of keeping the feel of a 100 year old cabin while giving us amenities that didn't exist back then. I can hardly wait to go back in the winter for a cozy evening in front of the fire."
6- Mama Bear cabin
Now we are getting into true wilderness territory, don't worry, it is also close to a small town where you can find most day-to-day items. This cabin is located in Brag, Greek, a little over an hour's drive from Calgary. If you enjoy random wildlife life sightings and amazing nature, then rent one of these beautiful cozy cabins right in the middle of all the action. This cabin also offers an indoor gas fireplace for those cold nights. There is also a fire pit outside so you can have fires to enjoy throughout the night. You can buy wood for $10 per stock (which usually lasts 4 hours). There are many outbound trails to explore some wilderness, and the river is only a few minutes walk from the cabin.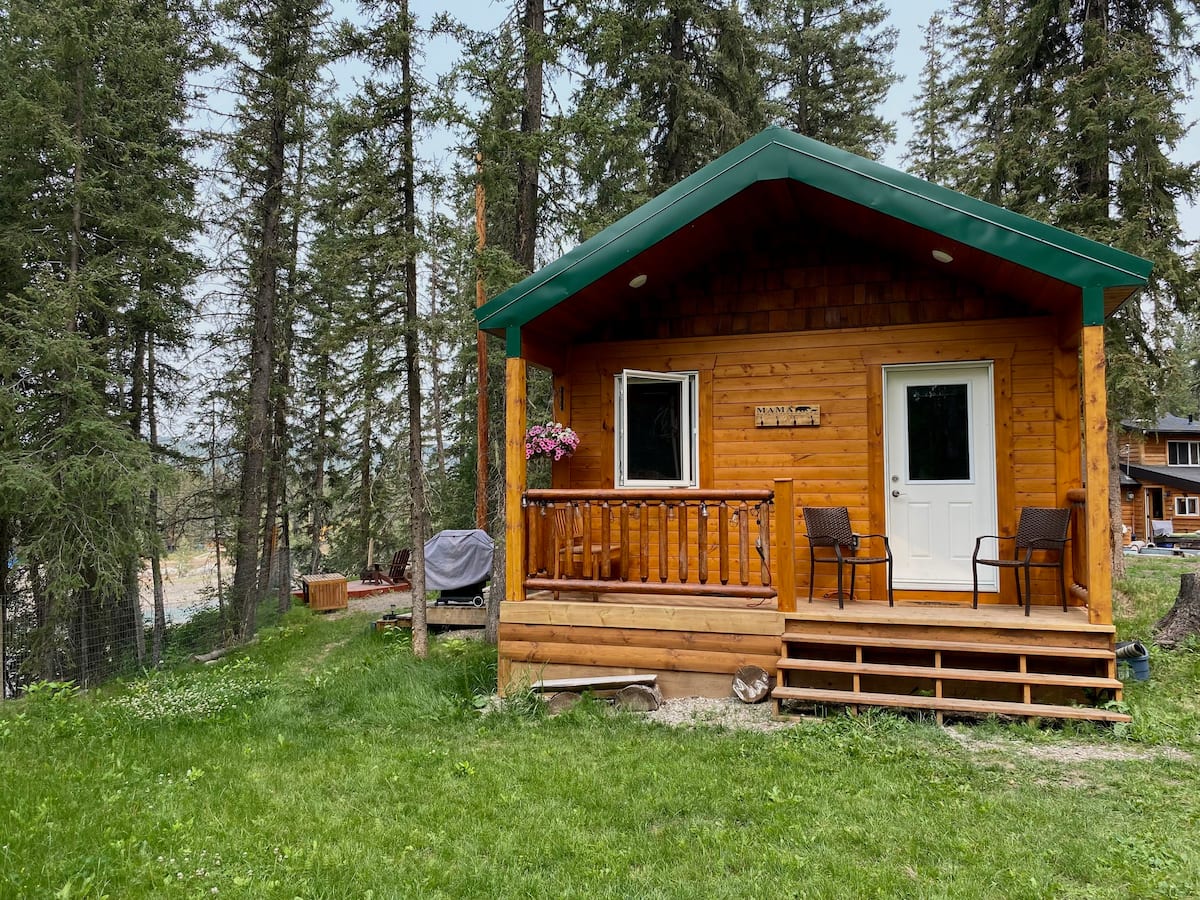 Reviewers speak highly of this cozy little cabin:
"Hands down one of the best AirBnB stays I have had. The location was perfect to access trails and the town, the cabin had lovely décor and everything you needed for your stay, the scenery was beautiful and Sherri and dog Blue were wonderful hosts. We will definitely be back!"
5- Riverside Bragg Creek Cabin
It seems that there are many astonishing places to stay here in Bragg Creek, but this one is one of the highest-rated cabins in the area, and for a good reason. The location, cleanliness, comfort, and easy access to the town might be some of those reasons. This cabin gives you the best of both worlds. It is situated right on the Elbow river and facilities like cafes and restaurants are not far either.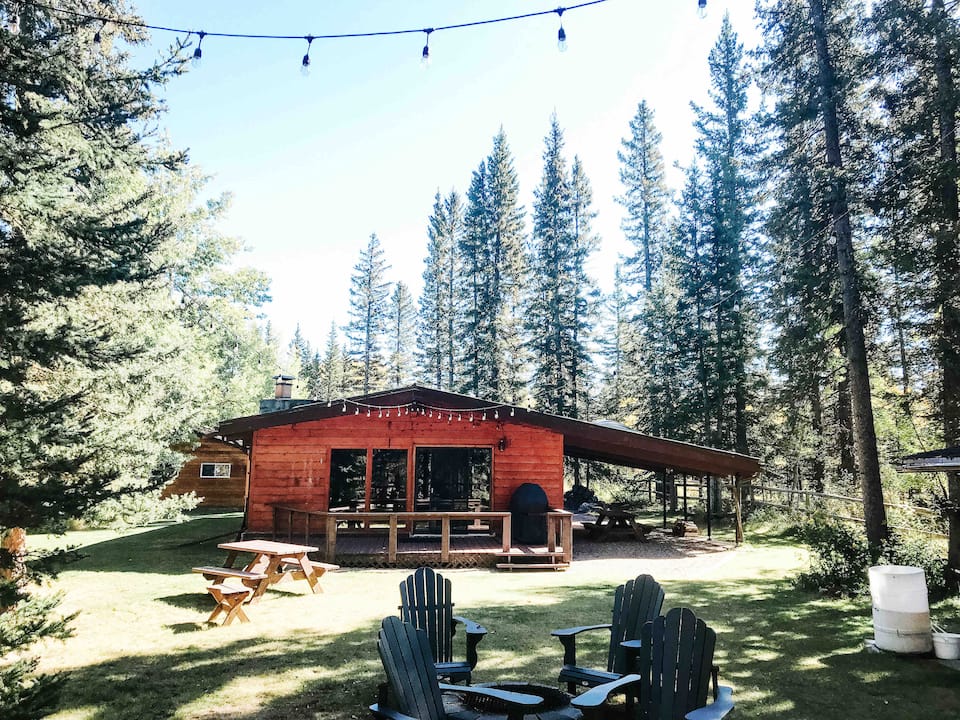 Customer reviews speak very highly of its cleanliness and comfort.
 

"We had a perfect vacation here! We felt like we were in a movie. The river sounds just in front of the house made us feel peaceful. You can have campfire at night and see some stars in the sky. Such a nice play to chill out! I want to come again!"
4- Rustic Cabin in the Foothills of Calgary
This location is about 45 minute drive from downtown Calgary. The cabin is built on a large property and is surrounded by forests. You can head out on a hike, snowshoe, or ski from the cabin. Animals also frequent this area so that you can spot them early morning or evening hours.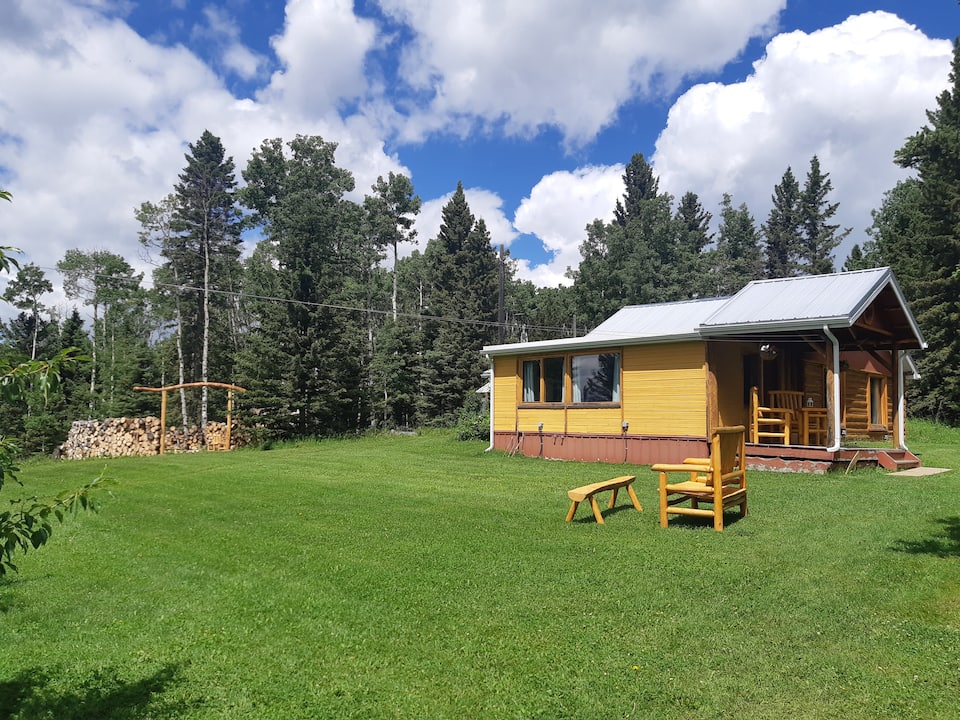 People who stayed here absolutely loved it.
"A perfect getaway. The feeling of being in the middle of nowhere surrounded by pristine wilderness while being only minutes from Calgary and Bragg Creek. We especially loved curling up by the fire after exploring the many trails around the property."
3-Nature Retreat Log House
Did you ever want to stay in a huge log house in the middle of the woods with a hot tub but the thought of a high price stopping you from doing so? Well, this amazingly beautiful property offers a comfortable unit in a large log house, surrounded by nothing but nature, and for a truly affordable price. It seems like this place is newly listed as there are only six reviews as of yet. But that might change soon as every review is 5 stars.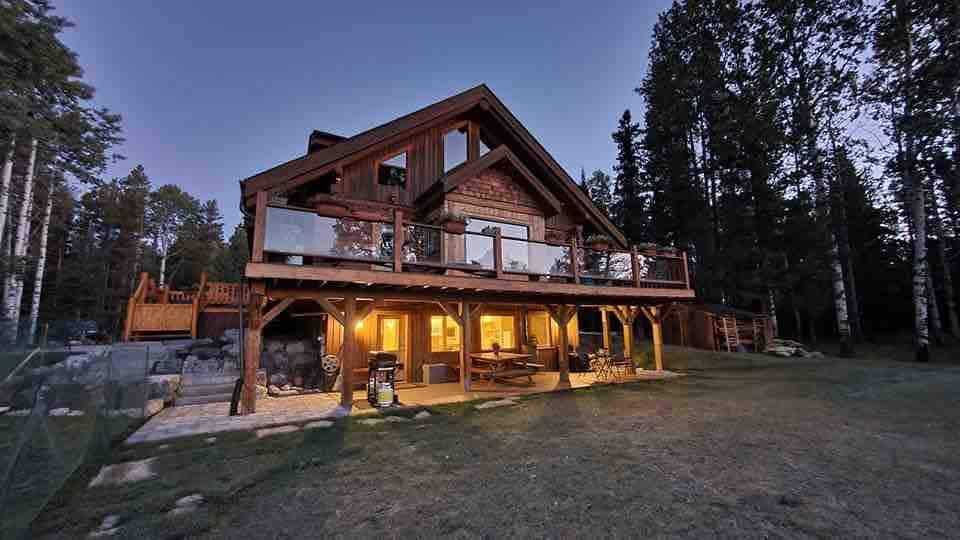 Here is one of the reviews:
"This place is great, has everything that you need for some time away from the city or quiet time away from kids. You can be as active as you want or be lazy, like we were, and just relax and cook your own meals. The views, yard, hot tub and resident pets are great. The hosts Charlotte and Brad are wonderful and made sure we had everything we needed to make sure our stay was comfortable and enjoyable. Highly recommend this great getaway."
2-

Entire Chalet
 https://bit.ly/3GwBQqs
This log cabin is a wonderful piece of art. Immerse yourself in a slice of Canadian life, looking out over acres of pristine nature. With easy access to rivers and creeks, stunning views, and surrounding wildlife. This might be one of the best Alberta has to offer when it comes to log cabins. You have to see it to believe it. This log home is so great! The 20 private acres surrounding it mean there's never a dull moment when there's something to explore. On top of that, there is a creek that runs right by the huge deck.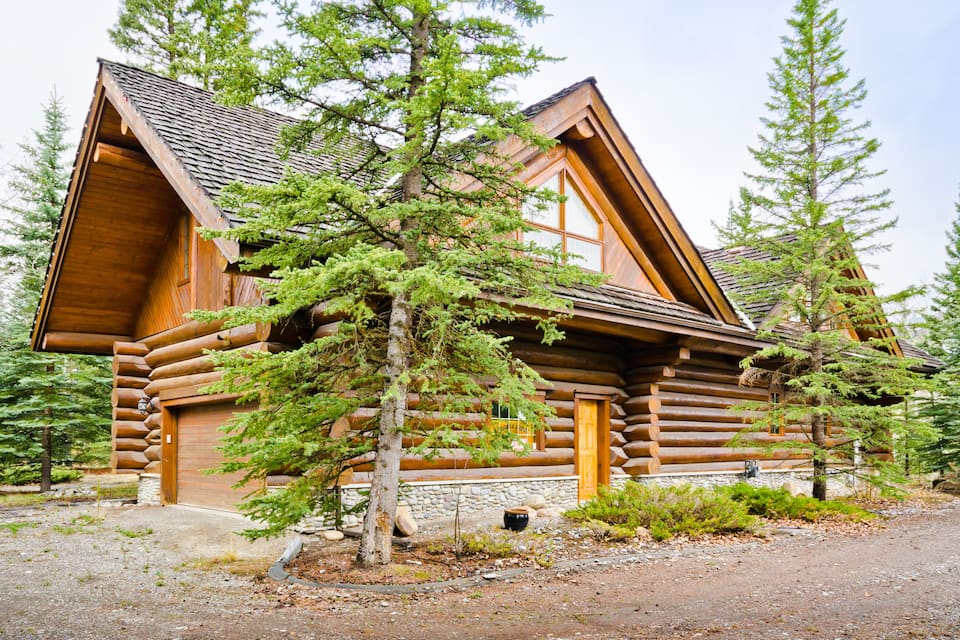 Here is one of the reviews:
"We rented this for my sisters birthday. My family was completely blown away….. it's absolutely beautiful! The pictures don't even do it justice."

 
1- A Stunning Timber-Frame Home
This house is a perfect example of how you can combine luxury and nature for a serene and breathtaking environment. The environment here is designed to be quiet, relaxing, and perfect for total enjoyment. You can watch wildlife roaming the area while night skies provide a stunning sky view. And while peering at views of the Rocky Mountains by your private deck, you can chat around a fieldstone wood fire. This is a big 4000 sq. ft. house on ten beautiful acres of land. The nightly rates are high, ranging from $700-$800/night. But this huge house can hold up to 8 guests so that you could share the cost with your friends.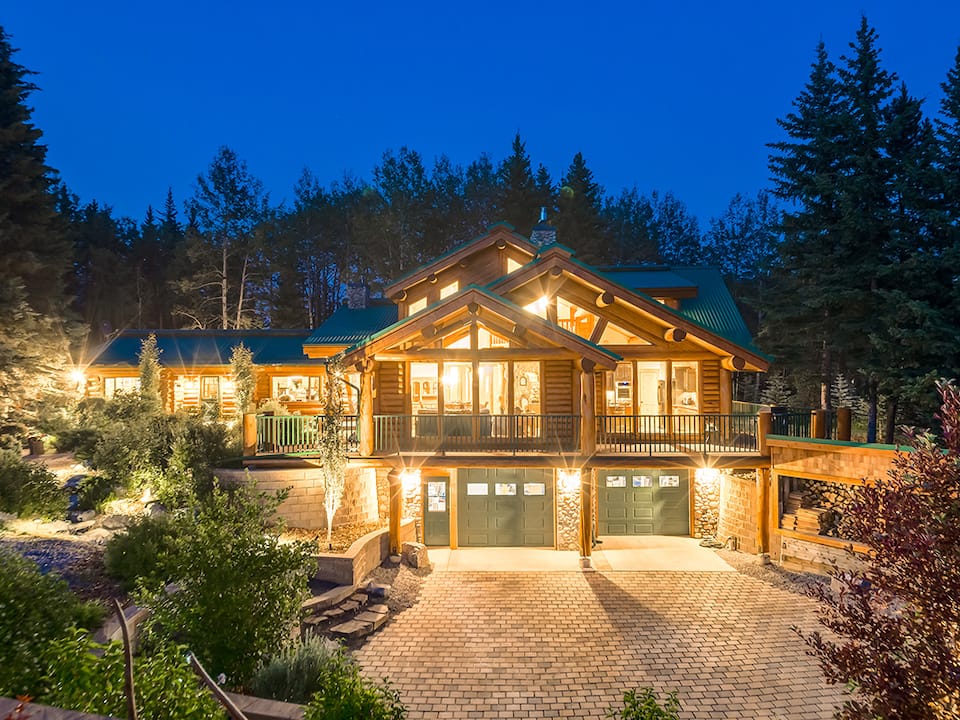 Here is a detailed review by one of the customers:
"Highly Recommend! Having been a long-time Airbnb user and a superhost myself, I can say with full confidence that Sylvia is a world-class host with a world-class lodge in one of the most beautiful places in the world. We rented her lodge for an overnight business strategy retreat. My team members were SO EXCITED.